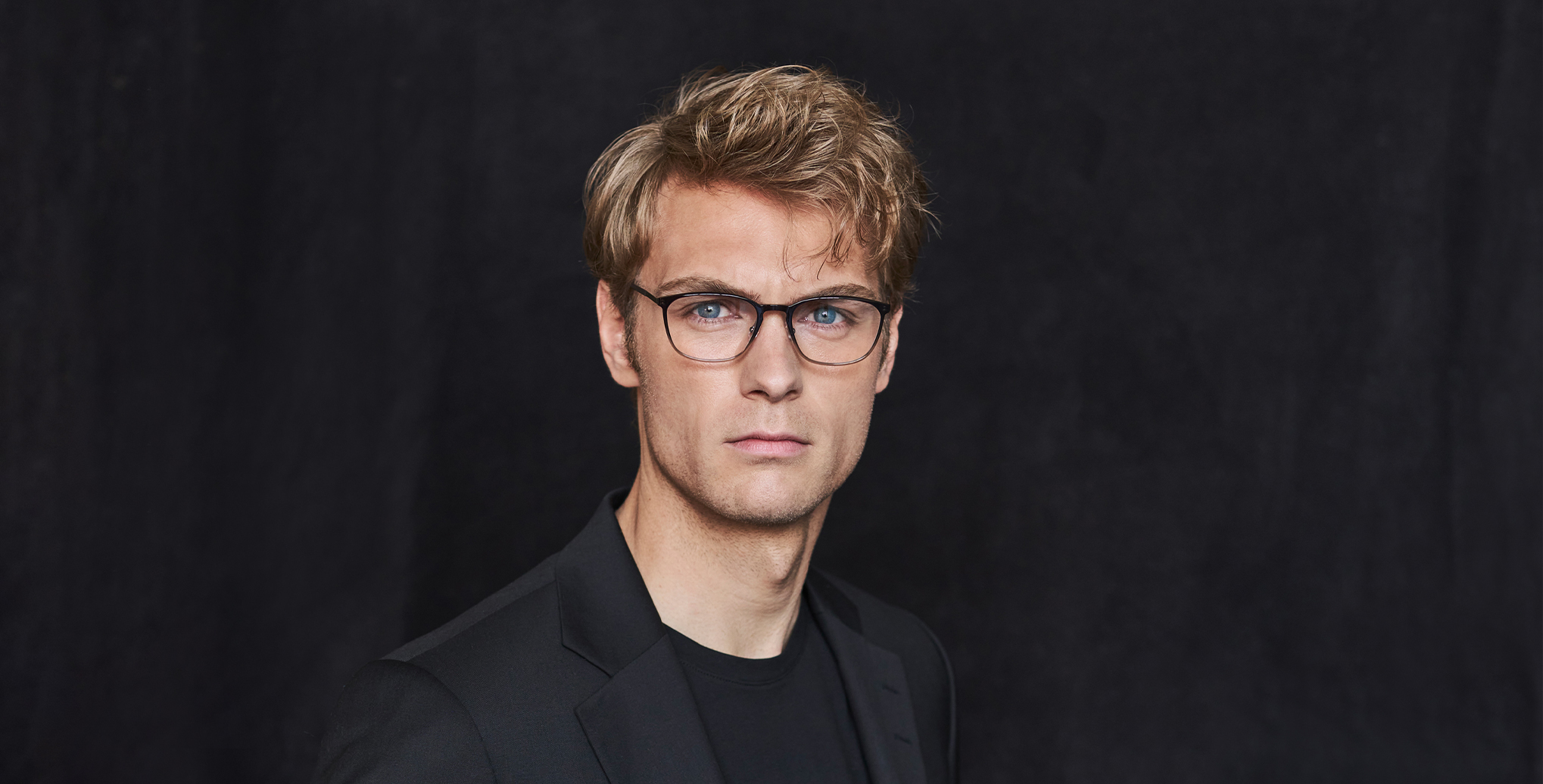 Designed in Denmark – handcrafted in Japan
The brand
nine eyewear was founded with a great passion for Danish design and Japanese craftsmanship. Since the beginning, the most important elements have always been simple aesthetics, comfort and high-quality materials. Japanese titanium is the primary material in our collection.

Our main focus is to achieve the right balance between form and functionality when designing our eyewear. In addition to the obvious lightness, all frames are characterized by being extremely flexible and durable. And the weight of our frames, regardless of shape, color and material, is just about 9 grams.
The story behind
The first collection from nine eyewear was launched in 2010, in response to the growing demand for lightweight eyewear with a strong visual appeal. The founder and designer Jens William Sørensen became inspired by Japan through his years as sales responsible in the optical industry. He was fascinated by their persistent mindset and the outstanding quality of Japanese materials. This had to be the core of his new brand. "In Japan, the joy lies in the detail and in the craftsmanship." Says Jens. There was no doubt in his mind what the market needed; a new high-end collection offering comfortable eyewear based primarily on 3 things: Japanese craftsmanship, high-quality materials and minimalist Danish design.
The company is located in the beautiful city of Aarhus, in Denmark. The city is known for several architectural pieces – especially The City Hall designed by Arne Jacobsen, Your Rainbow designed by Olafur Eliasson and The Infinity Bridge. "Simple designs and aesthetic thinking have always been a great inspiration to me." says Jens William Sørensen.
"Around the world, agents and distributors are doing a great job selling our highly regarded collection. nine eyewear is exceptional due to the uncompromised quality and the Danish design. This is crucial for me to know, when I present the collection around the world. Selling our products makes me extremely proud." says our Global Sales Manager.
Aarhus is known to be "the city of smiles" and that is exactly what will appear the first time you try on a nine eyewear frame. The surprisingly feather-light and pleasant feeling will bring a grateful smile to your face. All frames weigh just about 9 grams – hence our name nine eyewear.
The design process
The hand-drawn sketches are made in Denmark and through close collaboration with skilled craftsmen in Japan, every detail is measured. The distinct lightness, simplicity and functionality pay tribute to the design principles of Danish modernism – nothing is superfluous, every detail has a purpose.
The nine eyewear collection is shaped in Japanese materials of high quality and based on the fascination of Danish design. All prototypes are made by thorough engineers to guarantee technical accuracy before final approval. "I'm always working on new designs, matching colors and innovating materials. That's what I love about my job; engineering and developing the collections and the brand nine eyewear." says Jens.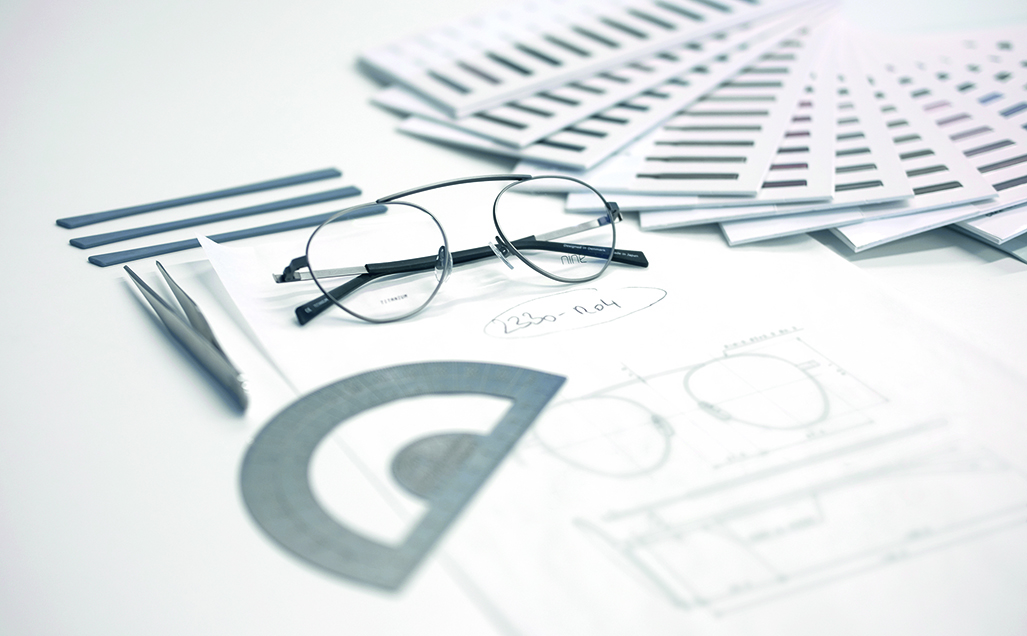 The production
All frames from nine eyewear are exclusively produced and verified in Japan. The core of each collection lies in the craftsmanship and virtues of the Japanese artisans. Every frame is manufactured in about 250 production steps before final approval. A special set of tools is made for each frame, every time. We own the rights to these tools and they may not be resold, so you will not find copies of the nine eyewear collection anywhere.
Our Japanese manufacturers are carefully chosen to ensure our high production standards. All frames are assembled by hand and examined under microscope. If the slightest inaccuracy is detected, the frame is reproduced from scratch. All frames are produced from unique Japanese materials. We use flexible beta titanium, the incomparable Takiron acetate and sustainable transparent polyamide, primarily made from castor beans, to ensure reliable state of the art quality. These materials have different advantages and are all carefully handpicked and tested.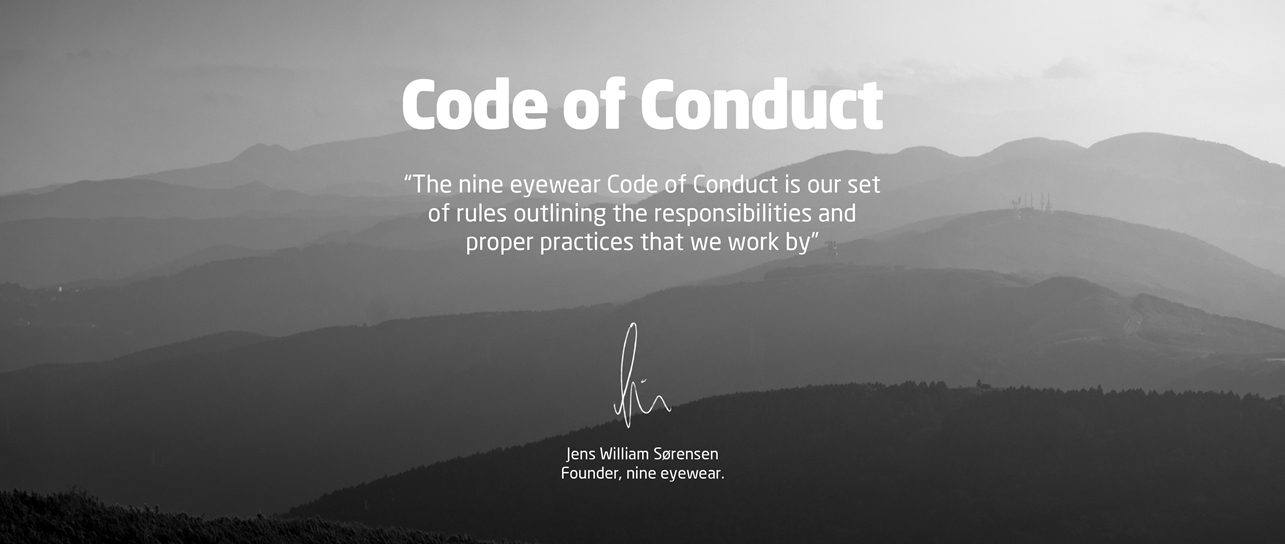 Code of Conduct
nine eyewear a/s designs, manufactures and markets eyewear and related accessories to consumers around the world. Since 2010, nine eyewear has grown from a local Danish company into an international brand with customers all over the world. 
Today, nine eyewear is one of the world's leading manufacturers and marketers of high-quality eyewear. nine eyewear has attained this position through constant innovation and sound business principles. However, it is just as crucial to the success of nine eyewear that we lead the way in good corporate citizenship. 
No matter where in the world nine eyewear operates, we adhere to principles stipulating correct and decent behavior. This is our heritage as a Danish company. The principles apply to employee relations, to environmental considerations and to relations with our business partners. 
The nine eyewear Code of Conduct is based on relevant legal requirements and internationally agreed upon standards, like the UN's Universal Declaration of Human Rights, Convention on the Rights of the Child, and circular economy principles and waste reduction to conserve the Earth's resources.
The respect for other people and cultures is deeply rooted in our company. This is the very heart of the nine eyewear Code of Conduct as regards sustainable development, employee relations, health and safety, environmental protection and community relations. 
Environment
nine eyewear business strategies and success must be based on environmental responsibility and sustainable development. This is done by reducing the use of materials, energy resources and waste, prevention of pollution and, when possible, by recycling of waste from production units. 
nine eyewear aims to minimize the use of chemical and harmful substances in connection with the manufacturing of products. We always strive to reduce the environmental footprint of our operations and in our value chain.
nine eyewear support and encourage suggestions for improvement of practices and procedures that are beneficial to the environment.
Employee relations
Non-discrimination
We always treat each other with respect and dignity – and value input from others. We respect each other's boundaries and we use a proper tone of voice when addressing each other and others. Equality and diversity are very important to us. We reject all forms of discrimination, e.g. based on race, gender, sexual orientation, family circumstances, political or religious beliefs, age or disability.
Labor
nine eyewear respect and uphold labor rights by the law of the country in which they are employed. nine eyewear do not engage forced labor, bonded labor, slave labor or other non-voluntary labor in the value chain.
nine eyewear ensures that the UN Convention on the Rights of the Child is respected and that children are protected from economic exploitation and from work that may be dangerous to their health, interfere with their education, or hinder their physical, mental, moral, or social development. 
The minimum age limit accepted by nine eyewear is 15 years. Children from 15 to 18 years of age must never participate in any form of strenuous or potentially hazardous work and should always be closely monitored and helped through training and frequent consultations with their superior.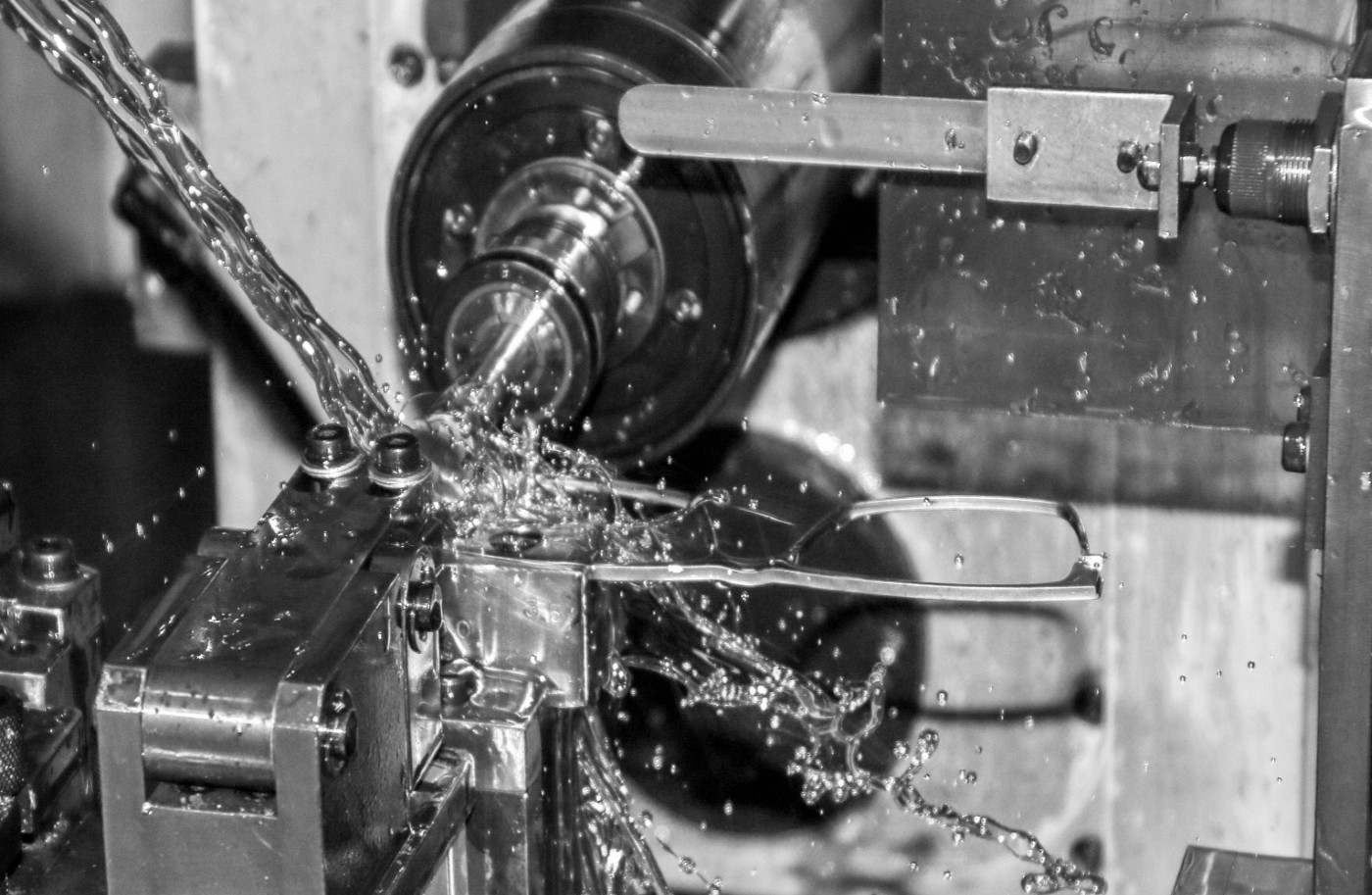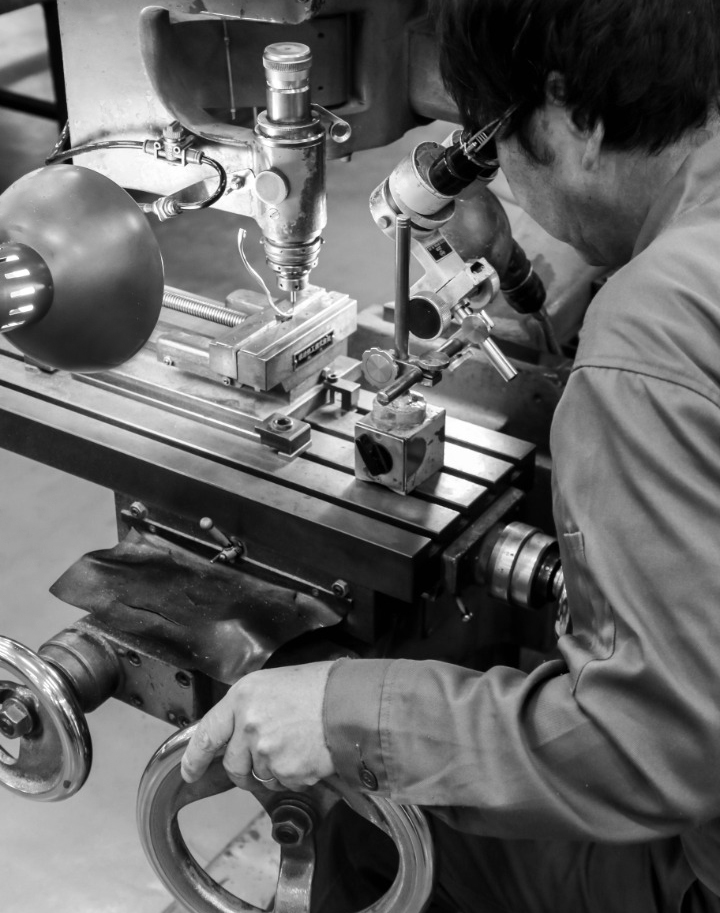 Working terms
nine eyewear ensures that all employees have contracts and the terms of employment in place and that the working hours of the employees are in compliance with local legislation and that employees have at least one day off in seven.

nine eyewear remunerates via wages and benefits in such a way that they are not less than local minimum wages and that they match prevailing local industry practices. nine eyewear ensures that each employee is provided with a specification for every wage period and does not deduct pay from the employee's salary for any disciplinary reasons. 
Health and safety
nine eyewear strives to ensure the safety and the health of employees adhere to local legislation and local norms at a minimum. It is important that all nine eyewear suppliers make every effort to avoid accidents and constantly seek to improve the safety and wellbeing of all employees.
It is essential to nine eyewear that the nine eyewear Code of Conduct is an integral part of the entire value chain. We expect our external suppliers, wholesale and retail customers to acknowledge and respect the nine eyewear Code of Conduct as a part of our collaboration.
Sustainability & corporate environmental policy

At nine eyewear we aim to achieve less environmental impacts by reducing, reusing and recycling. It's a commitment from leadership to employees, producers and customers.
Our approach to protecting the environment is to set long term goals to address the environmentally impacts from our products and business operations. The most important environmental issues for nine eyewear are implementing circular economy principles and waste reduction to conserve the Earth's resources.  
By using high-quality materials and skilled Japanese craftsmanship, the nine eyewear collection has achieved lasting durability.
The waste policy is constantly under progress and development aiming to be even more environmentally friendly. nine eyewear continue to evaluate and review annually the impact of our business on the environment, and is forever committed to set new goals to reduce this impact.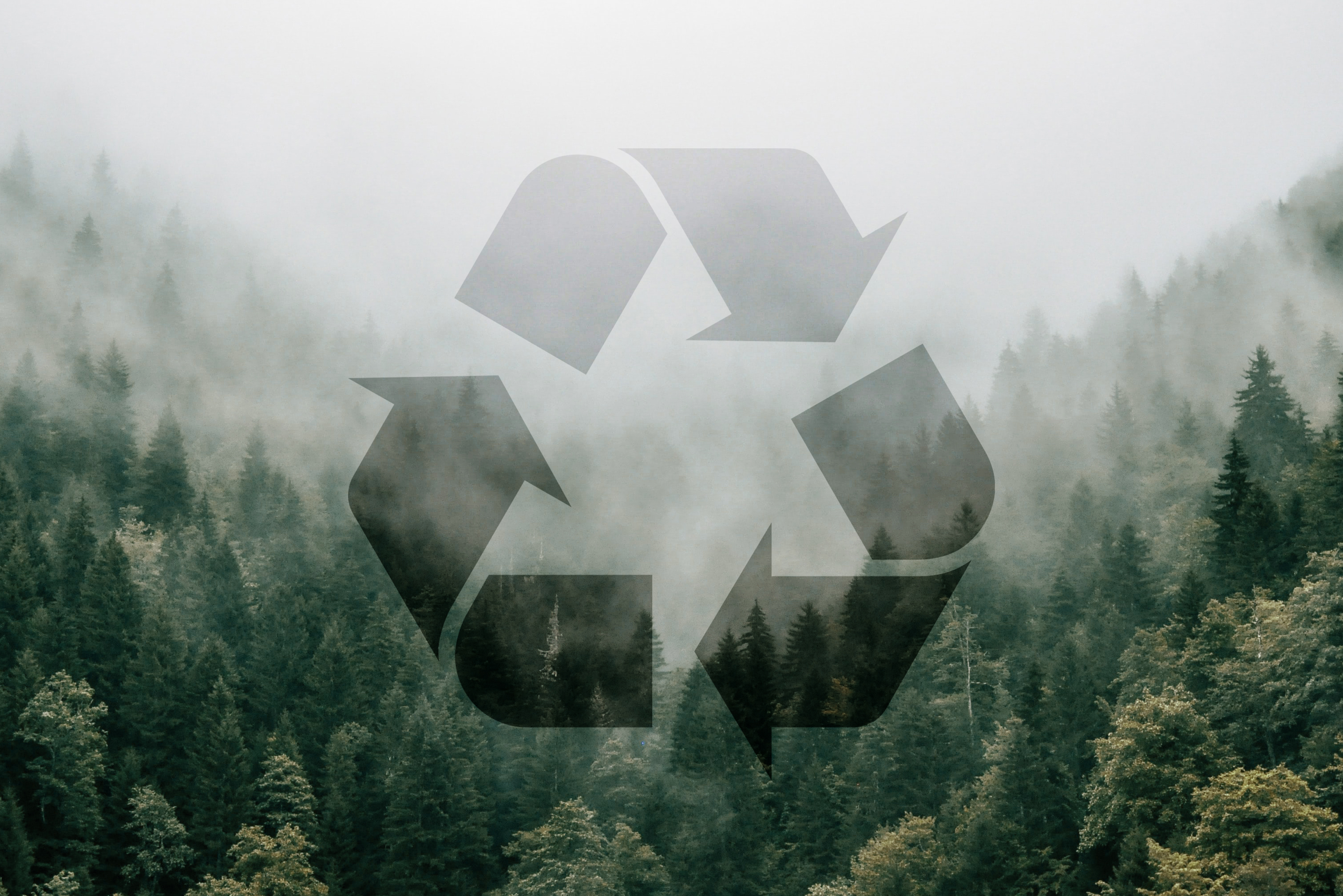 London Design Awards
Our nine origin sense 2933 was awarded silver in the category Product Design at London Design Awards 2023.

About London Design Awards
The London Design Awards is an international competition that recognises exceptional designs and outstanding creative projects worldwide. Honouring designs that are truly exceptional in the visualisation of creative influence, the award sets out to promote the works of brilliant designers involved in the fields of interior, architectural, product, packaging, conceptual, communication and more, bringing everlasting fame to those who would surpass the industry. The London Design Awards received submissions from more than 30 countries across the world and over 1200 entries in total.

About nine origin sense 2933
nine origin sense 2933 is a tribute to the classic virtues of Japanese craftsmanship and the design principles of Danish modernism. The light expression and organic shape emphasize the level of craftsmanship and the unique qualities of the materials used. The frame is designed in Denmark and through close collaboration with skilled craftsmen in Japan, every detail is measured and every material carefully selected. The front is a thin acetate piece in a unique, playful shape that sets it apart from other classic, semi-round frames. This beautiful brown colored front is fitted with flexible titanium temples – a perfect match of complementary materials that provide the ultimate fit.

Explore all variants of model 2933 here.

Grands Prix Du Design Awards
Our nine pure 2819 has been honored with a platinum award from INT Design – The GRANDS PRIX DU DESIGN Awards 2022, in the Product Category.

About Grands Prix Du Design Awards
The GRANDS PRIX DU DESIGN Awards celebrates and rewards the work of designers and architects who improve our quality of life and the built environment, as well as private and public clients who entrust them with their design needs.

About nine pure 2819
nine pure 2819 is a simple and elegant frame, from our featherlight collection nine pure – made from sustainable and natural materials. Designing this frame, we wanted to honor the amazing organic material, by creating a light and simple shape, featuring only the most essential details. The front of each nine pure frame is shaped in a high-performance bio-based material, produced from castor plant seeds. The temples are made of Japanese beta titanium. Durable, recyclable and completely non-toxic.

Explore all nine pure models here.

NY Product Design Awards
Our nine origin 2740 Ltd. was honored with the NY Product Design Award 2021. The frame won the Eyewear Category - Fashion & Lifestyle.

About NY Product Design Awards
The NY Product Design Awards was established with the purpose to honor and recognize product designers who contribute to the advancement of the field, regardless if the results are incremental or completely revolutionary.

A well-thought-out design is not just functional, but it can be aesthetically pleasing as well. To then take it a step further, and include provisions for what the future may hold, makes a design truly remarkable. Going beyond provisioning for the current era, and paving a path for future possibilities, that is what sets excellent designers apart.

About nine origin 2740 Ltd.
nine origin 2740 is a Limited Edition luxury eyewear frame expressing our passion for simplicity and functionality. Designed in Denmark and crafted with special production techniques by Japanese artisans. Unique design details combined with exclusive Japanese Takiron acetate and ultra-lightweight titanium. The delicate parts are cut, polished and unified with accurate measurement and techniques passed down through generations. And all titanium parts are plated with palladium. Refined eyewear that truly defines luxury.

Explore all variants of model 2740 here.

iF Design Award
In 2020 nine eyewear won the prestigious iF DESIGN AWARD. The winning frame, our nine origin 2735, won the Product Category, chosen by a 78-member jury, made of independent experts from all over the world.

About the iF DESIGN AWARD
For 67 years, the iF DESIGN AWARD has been recognized as an arbiter of quality for exceptional design. The iF label is renowned worldwide for outstanding design services, and the if DESIGN AWARD is one of the most important design prizes in the world. All awarded entries are featured on the iF WORLD DESIGN GUIDE and displayed at the iF design exhibition in Berlin.

About nine origin 2735
nine origin 2735 from our Limited Edition collection is an high-end frame with a sophisticated look. Like all nine eyewear frames, our 2735 is handmade by Japanese craftsmen in more than 250 production steps, but with a little extra that truly defines luxury. All titanium parts are plated with precious metals like 18 kt. gold and acetate parts are made from exclusive Japanese Takiron acetate.

Take a look at frame 2735 here.

A' Design Award
nine eyewear was awarded the A' Design Award 2019 for the frame nine origin 2730 Ltd. We won the silver award in the category Jewelry, Eyewear and Watch Design.

About the A' Design Award
The silver A' Design Award is given to top %5 percentile designs that has achieved an exemplary level of excellence in design. Entries are voted by an experienced grand jury panel of press members, design professionals, academics & entrepreneurs. Designs are ranked based on standard deviation of jury votes to remove any biases & voted on distinct evaluation criteria for each award category. A' Design Award has a philanthropic mission to create a global awareness and understanding for good design worldwide, the ultimate aim of the accolade is to push designers, brands & companies to create superior products and projects that advance and benefit society.

About nine origin 2730
nine origin 2730 is a combination optical frame, made from original Japanese acetate, grade 2 medical Titanium and Beta Titanium. In order to obtain the flexibility and lightness of this piece, we had to create an even more delicate and complicated structure than normally used for optical frames. Crafted with high attention to detail. No shortcuts, just pure Japanese know-how.

Explore all the different color combinations here.

Red Dot Design Award
In 2017 was nine eyewear honored with the prestigious and internationally acclaimed Red Dot Design Award, in the category Product Design. Frame 2317 from our nine collection was awarded the 'Red Dot' and displayed at the Red Dot Design Museum and in the Red Dot Design Yearbook 2017/2018.

About the Red Dot Design Award
The Red Dot Award is one of the world's largest design competitions and in order to appraise the diversity in the field of design in a professional manner, the Red Dot Design Award breaks down into three disciplines; Product Design, Communication Design and Design Concept.

The international design competition Red Dot Award is well established internationally, with headquarter in Essens, Germany. It's already more than 60 years ago that a jury convened for the first time to assess the best designs of the day. Since then an expert team has been awarding the seal of quality for good design and innovation to the outstanding designs of the year.

About nine 2317
The frame is designed in Denmark and handcrafted by skilled Japanese artisans from a super thin (0,8 mm) beta titanium eyewire making the weight less than 9 grams. The temples are just 4,5 mm wide and made from a laser cut sheet of beta titanium just 0,7 mm thick. By using the flexible beta titanium, together with the distinctive nine eyewear rubber sleeves, the Japanese artisans found a way to ensure that the frame always stays in place during almost any sport events.

View frame 2317 here.

Good Design Award
nine eyewear was acknowledged with the Good Design Award 2016. The Good Design Award was awarded for frame 2433 from our former collection nine 3rd.

About the Good Design Award
The Good Design Award honors designer products that enrich people's life – and this endorsement was given to nine eyewear: "The product nine eyewear 3rd shows us simple and intelligent design, made with aesthetic consciousness. Such as for the design in detail, materials rationality, the scrupulous care for the user deserve a highly evaluation."

The winners of the Good Design Award are selected through the ideals of the Japan Institute for Design Promotion:
HUMANITY the creativity that guides the making of things.
HONESTY the ability to clearly see the nature of modern society.
INNOVATION the vision to open up the future.
ESTHETICS the imagination to evoke a rich life and culture.
ETHICS the thoughtfulness to shape society and the environment.

About nine 3rd 2433
The winner of the Good Design Award nine 3rd 2433 was a sophisticated frame designed as a tribute to the classic eyewear fashion. Titanium perfectly matched with sandblasted transparent polyamides gives the eyewear a sophisticated matte look. A carefully developed nose pad system ensures a perfect fit and offers supreme comfort with a light, aesthetic look.